Dr. P K Gupta
MBBS, MD, PGDS, MCSEPI
(Consultant Sexologist in Delhi)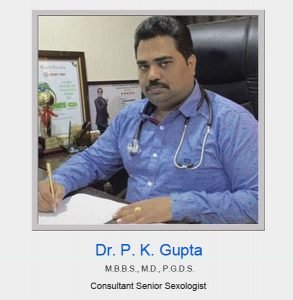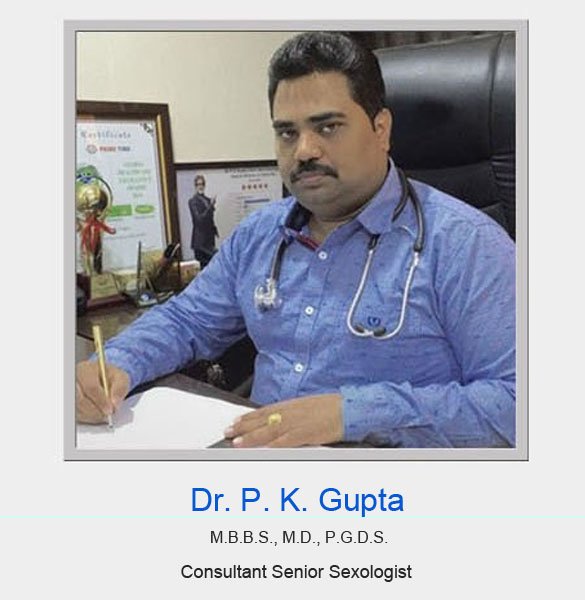 Dr. P. K. Gupta is the best sexologist in Delhi. He runs a Super Specialty Sexologist Clinic in Karol Bagh, New Delhi (India) which is famous for all types of sexual problems treatment. He has the qualification of M.B.B.S., M.D., P.G.D.S.(Sexual Medicine-America) and is additionally a member of the Council of Sex Education and Parenthood (International).
He worked as a Consultant in many prestigious hospitals in Delhi like:
Ram Manohar Lohia Hospital (Central Government)
B. Pant Super Speciality Hospital, Delhi Govt.
Maulana Azad Medical College, Delhi Govt.
In his 20 years of career Dr. P. K. Gupta, who is an expert in Sex Treatment, is particularly keen on spreading awareness about sexual life in Indian culture. Sexologist in Karol Bagh, Dr. P K Gupta constantly takes an interest in exercises with respect to the improvement of sexology(sexual medicine) that are organized by different societies, associations, forums, and Institutions of Reproductive and Sexual Health Experts. His patients are getting a charge out of glad sexual and social life after treatment.
A significant number of his patients cited him as "BEST SEXOLOGIST IN DELHI/MOST QUALIFIED SEXOLOGIST/GOOD PROFILE SEXOLOGIST/BEST DOCTOR WORKING IN SEXUAL AWARENESS". Whenever anyone is in need of making his sexual life active again, they get effective and side effect free treatment from him.
He is extremely appreciative of being one of the best sexologists in Delhi. Dr. P. K. Gupta is getting an understanding of regenerative and sexual well-being-related issues from all around Delhi, all around India, and from Western and Arabian nations.
He is specialized in the treatment of erectile dysfunction, premature ejaculation, low libido, and other sexual problems.
Education
M.B.B.S., M.D., P.G.D.S.(Sexual Medicine), P.G. Dip. (U.S.G)
Member Council of Sex Education & Parenthood (International)
Specialization
Consultant Senior Sexologist & Infertility Expert
Awards & Achievement
Awarded Best Sexologist Consultant in Delhi by Prime Time Research Media in 2013 & 2014
Awarded Certificate of Excellence Life Time Achievement Award (Sexual Health) By Brands Achiever in 2015
In 2020, Shri Ram Das Athawale, Minister of Social Justice & Empowerment, Govt. Of India, awarded Dr P K Gupta as Worldwide Achievers "BEST MEN'S HEALTH AND IVF CLINIC IN DELHI" sponsored by Govt. of India.
Professional Experience
Formerly:-
Sr. Resident S.G.M. Hospital, Delhi, Govt.
Dr. Ram Manohar Lohia, Central Govt.
G.B. – Pant Hospital – Maulana Azad Medical College, Delhi Govt..
We are sorry that this post was not useful for you!
Let us improve this post!
Tell us how we can improve this post?